Ever wanted to know what it's like behind the scenes at a convention?  Love coming to Anime Boston but want to take it to the next level?  Our staff applications are now open for 2015.  animeboston.com/staff

Information for the Anime Boston 2015 Artists' Alley is now available.  Read through for the sign-up process and how to apply for space.  Remember, space is granted on a first-come, first-serve basis.
Anime Boston is proud to announce that we will be once again hosting an art contest!

In accordance with our 2015 theme of Kaiju vs Mecha, we're looking for artists to submit their own creations of kaiju and/or mecha.  Let your imaginations run wild!  You could win a free badge to Anime Boston 2015 and a table in our artist alley.
AB Needs Your Help!
Our Creative Media Team (they're the ones who make our epic videos) needs your help!  Let us know your favorite mecha and kaiju for a super secret project!  Thanks!  
(We are sad Pacific Rim doesn't technically count, because it gets our vote.)
We're busy getting ready for Anime Boston 2015 (April 3-5).  Got our new themed graphics (which we think look pretty spectacular) up!  Not gonna lie, "Kaiju vs. Mecha" might be my favorite theme yet.  This year, we're gonna try some new things on our tumblr.  Don't worry, we're still gonna bring you all the news and happenings for Anime Boston, but what are some other things you want to see?  Anime reviews?  Cosplay tips? Flashbacks from ABs gone by?  An inside look at what it takes to make AB happen?  Let us know!
How To Help With Post Con Blues
We all get there Sunday evening/Monday morning post-con. You just had one of the most fun weekends of your year and just like that, it's over! The adrenaline wears off, the tired sets in, the bittersweetness of a weekend gone by, and then you come off it lost and having to go back to reality while longing for that fun again, but ALAS, the next Anime Boston is another year away!
How can you possibly deal with these post-con blues? Well, there's a few things to smooth it along.
1. Group Anime Viewings/Video Game Playing
Get some snacks or something and get together with friends one night a week, and watch some anime or play video games! You can watch a series together over time, or have your own little game tournaments!
2. Check Out Local Japanese Cultural/Themed Events
There's the Japan Festival Boston coming up in June as part of the Cambridge Arts River Festival, and sometimes there's a Japanese/Asian related art exhibit around the area!
3. Keep An Eye Out and Attend Other NEAS Events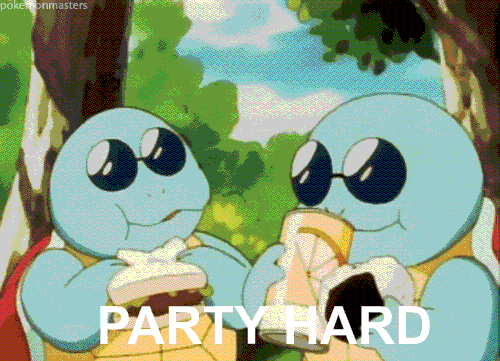 The New England Anime Society is the parent organization of Anime Boston, and aside from the con, NEAS does small events throughout the year such as last year's Cosplay Brunch with Geek Central, and anime viewings at Boston First Night.
4. Stare At This Picture of Paaaaaanddaaaaaaaaa
LOOK AT THE PANDA. LOOK HOW HE GO WHEEEEE SLIDEY TIMES.
See you at Anime Boston 2015!
That's all for now! Your official Anime Boston staff bloggers, Lauren, Andrew, John, and Krista, are now returning this Tumblr back to the social media team until next year's con.
Our last announcement is the 2015 theme: Kaiju vs. Mecha.
Anime Boston 2015 will take place April 3-5. We'll be looking forward to warmer Boston weather next year!
It was great sharing Anime Boston with you this year. Hope to see you in 2015!
And, as per Anime Boston staff blog tradition, we're closing off with "Closing Time:"
—Lauren Orsini, AB Staff Blogger
Eighteen thousand dollars!
That's an approximation of how much money the Anime Boston Charity Auction raised to benefit the Central Massachusetts Chapter of the National Multiple Sclerosis Society.
That's the number announced by Con Chair Andrea Finnin at the closing ceremonies. We'll update with a more specific number if we can get one.
The three biggest-ticket items were as follows:
3. An Anime Boston hockey jersey autographed by every single guest — $310
2. Two all-expense paid nights at the Sheraton Hotel — $472
1. An Anime Boston Lifetime Pass — $750
This number means we raised more money than we did at the 2013 charity auction, which was $14,671.32. Thanks to all the generous attendees who helped us break our previous record!
—Lauren Orsini, AB Staff Blogger
The 2014 Anime Boston Total Attendance Is…
More than 25,000.
That's straight from Con Chair Andrea Finnin's mouth, announced at the closing ceremonies. We'll get an exact count later on.
For the record, our 2013 total was just 21,825. We blew that out of the water!
Thanks to all the attendees who helped make 2014 the biggest and best Anime Boston yet!
—Lauren Orsini, AB Staff Blogger
One and Done Anime
Watching anime and reading manga can be a major commitment. The Ranma ½ anime series ran for 161 episodes over seven series, plus three movies and 13 OVAs. The Hajime no Ippo manga has been running nonstop since 1989 and consists of 106 volumes. That's a lot to consume, and you don't have a lot of time. Fortunately, some anime consists only of one episode or OVA and makes for quick enjoyment. Here's a curated selection from those suggested by George Horvath at the One and Done Anime panel:
—Andrew Hoffman, AB Staff Blogger